OUT NOW!!!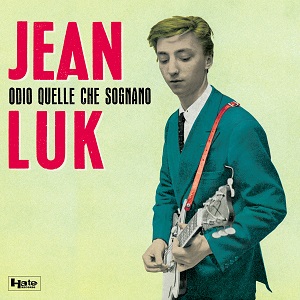 JEAN LUK -Odio quelle che sognano LP (1962-1963 discography) (Hate 45)
Edizione limitata di sole 245 copie numerate a mano. EUR 20,00
La discografia (sei 45giri ed un paio di brani da compilations) del giovanissimo autore laziale primi sessanta!
Killer guitar sound, bella e personalissima voce ed un'attitudine dallo stile crudo, primitivo, essenziale..
perfetto per il R&R ed il twist di quegli anni (1962-1963). Dalla label che vi ha dato Clem Sacco…
Copertina a colori + inserto, con note, biografia, foto e discografia. Imperdibile!!!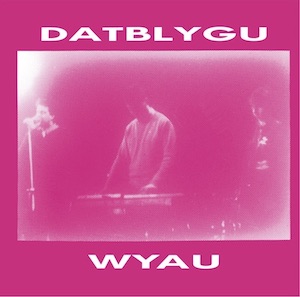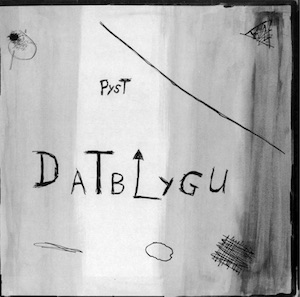 DATBLYGU - Wyau LP (HATE 48)
DATBLYGU - Pyst LP (HATE 49)
Ltd. ed. 350 copies
Le ristampe dei primi due album della MICIDIALE band gallese degli 80s! Profondamente radicati nel territorio e orgogliosi delle origini gallesi (c'è tutta una schiera di nomi "locali" fra cui i noti Gorky's Zygotic Mynci e i Super Furry Animals a citarli come basilari...!), la cui lingua è regola fissa alla base dei testi, titoli ed espressioni di David e Pat, le due anime della formazione. I Datblygu, formazione sempre ai margini del mercato e della stampa che conta (ma adorati da John Peel che li ha più volte ospitati per alcune delle sue Peel Sessions), possono essere definiti uno dei rarissimi esempi di gruppo "post-punk" con una propria forte personalità sonora poi saccheggiata a piene mani da varie formazioni (i Country Teasers su tutti..!). Unici ed inimitabili! I due LP, seriamente introvabili e costosissimi nelle loro versioni originali, vengono ristampati in edizione limitata di 350 copie ognuno, di cui le prime 50 in vinile colorato!
Vinile nero = Euro 18,00 / Vinile colorato = Euro 22,00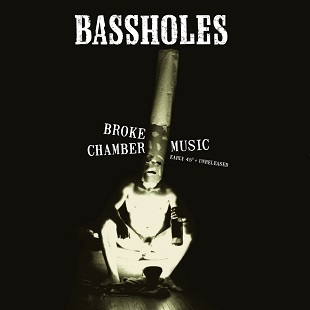 BASSHOLES - Broke Chamber Music. Early 45's + unreleased - Double LP (HATE 47)
Ltd. ed. 300 copies (first 50 cps pressed in "dirty-darkgreen" vinyl mail-order only)
with deluxe textured sleeve
Ltd. color vinyl = euro 25,00 / Black vinyl = euro 23,00
It includes most of the BEST Bassholes recordings (but it's not a "Best Of" since these tracks were not included on their LPs..!), all the non-LP tracks (A & B sides of the first singles, compil. trax + studio and live unreleased) from the first Bassholes line-up, with Don Howland and Rich Sims, PLUS the infamous "Funeral Home" demo tapes!! Mastered by Tim Warren.
Side 4 presents a totally unreleased and amazing Ann Arbor live set from 1994!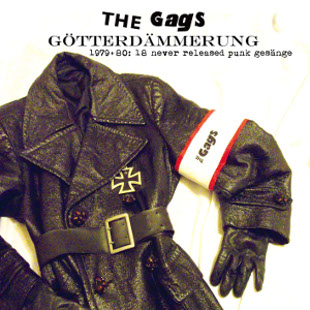 The GAGS - 1979+80: 18 never released punk gesange (HATE 46)
ltd. 300 copies on green vinyl with deluxe color sleeve and poster insert = 17,00 euro
The Gags (ex Mittageisen-the band who released Milano punk first 7", the now hyper-rare "Hardcore/Transylvania1760") were the best kept secret of late '70s/early '80s Milano punk scene. After the widely acclaimed "Criss Cross" LP (HATE 29, published in 2004, and totally out of print since then) here we got this TOTALLY UNRELEASED "Gotterdammerung" LP, including 18 tracks from the Gags archives recorded between fall 1979/summer 1980 (sources: demos & rehearsal tapes).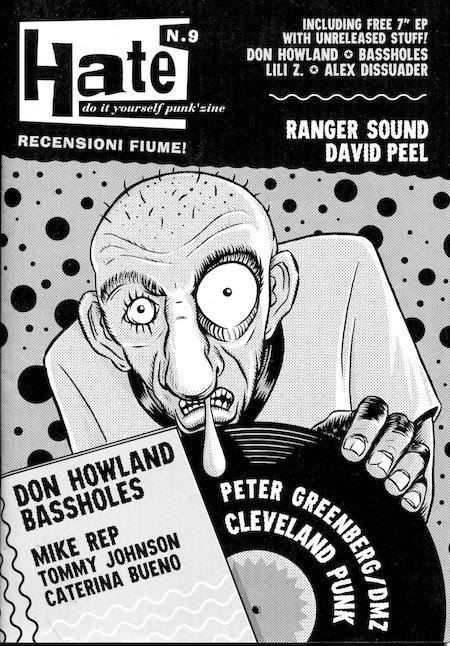 HATE 'zine
- 56 pages magazine + free 7" EP (w. P/S) = 10,00 euro
Includes a 7" EP with unreleased Don Howland, Bassholes, Lili Z and Alex Dissuader.
On the fanzine articles on Don Howland, Mike Rep, PeterGreenberg, DavidPeel, RangerSound-RagazziDaiCapelliVerdi etc. WRITTEN IN ITALIAN but also with great discographies at the end of each article + the Cleveland Punk discography.
Still available (last few copies ever!!!) : HATE 'zine #8 (incl. free Gories/Lord High Fixers 7" w.unreleased stuff) Eur 10,00